Welcome back! During the month of May, I will be writing a "Wedding Wednesday" post dedicated to wedding guests called the "Wedding Guest Series." This series was inspired by and will be in collaboration with The New York School of Etiquette and Protocol. #DaphneSays we should take our garments into consideration when attending a wedding and left it to me to break it down so here goes.
Last week we talked about "casual wedding attire" etiquette. Today we're moving on to another semi-confusing attire, "semi-formal." It sounds like you should "kinda look good" (LOL) but that's not the case. I've provided a description for both men and women plus I've pulled some looks that you can click right into for more details and/or to purchase. Enjoy!
Women
Ladies, semi-formal is usually an indicator for a dress. Generally a shorter but chic and modest. A long gown would be considered formal. Think cocktail dress minus the club. Luxe materials or patterns are a great option, i.e. silk, dupioni, lace or jacquard. I'd stick to a length that's an inch or two above the knee but nothing too short that would be a distraction and take away from the occasion. Yes, what you wear can say and do an awful lot. If you're more comfortable in pants, try a pair of dark tuxedo or high waisted straight legged pants with a dressy top and pumps. With anything you choose to wear, be sure to add accessories in the form of a metallic purse and/or jewelry.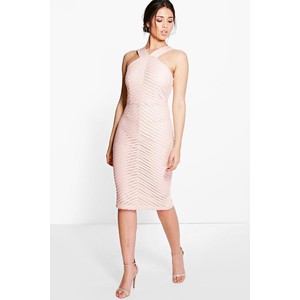 Men
Fellas, semi-formal means a business suit, dress shirt, tie and dress shoes with dark socks. A tuxedo would be considered too formal. Does it have to be so plain and rigorous? No, I always encourage adding personality to your outfits. For example, if you'd like to give your look some pizzaz, experiment with the colors and patterns of your dress shirt or a non-traditional bowtie. Add a matching pocket square or lapel flower, picking up from one of the colors in your shirt or tie as not to look too cooky.