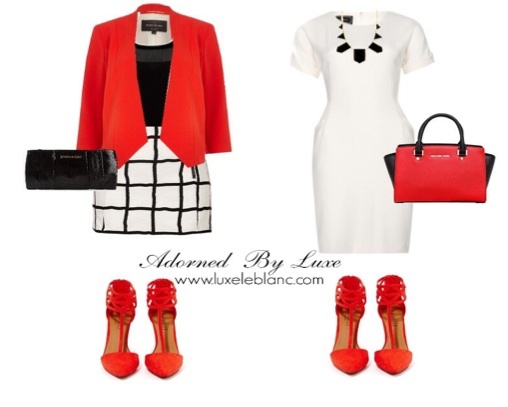 Pumps: the art of elevation through a shoe that often accentuates a woman's curves, encourages good posture and subconsciously increases self confidence. That's my definition of pumps and why every woman should own a pair. OK blog post over. Just kidding! Pumps can be very intimidating; from the height, to the heel, colors, shapes, patterns and the size adjustments. I remember trying on my first pair at sixteen, I nearly fell on my face! I felt like I was on stilts and walked like Forest Gump. After a few days of practice walks in the mirror I did it! Now-a-days I don't walk, I glide across the room as if I were born with pumps on my feet and so can you.
1. Work Pumps
Some of you are looking at this category like it's a typo. Trust me, it's no mistake. Remember, pumps are merely an elevated shoe. Most our minds gravitate to "The Devil Wears Prada" but by no means should you feel pressured to wear six inch heels to the office. Let's keep it around 3 inches and no skinny stilettos. For maximum support I'd recommend a block heel or dressy wedges. Most corporate settings require neutral work wear. Growing up, I was taught that neutral meant black or brown shoes, boring. Neutral varies based on the fashionista and her work environment. I say, if you can pull off those stunning red heels without being a distraction then go for it. If your work environment is more conservative, go with the basic corporate tones but play up the style. Instead of flat Mary Janes, do t-strap or peep-toe pumps. Overall, the perfect work pump should be comfortable because you'll be in them all day. The black pumps below are Rockport! Shock face? I definitely had mine. Also, if you're a New York City commuter like myself, Shoe Along is a cute, convenient, shoe carrier that attaches to your work bag for the infamous shoe swap we do before walking into work or an interview. Say goodbye to the unattractive, noisy swishing plastic bag.
2. Casual Pumps
For a glamour girl, down time is the perfect time to take it up a notch. The bright beauties we couldn't wear all week come out in our casual wardrobe. I would totally rock these bright yellow lipstick-heel pumps on a day out with my girls. Now, that's just my personal style. You can still be glamorous in something less blinding. It's all about expressing your personal style in a complimentary way. For moms on the go, I'd recommend a pump with ankle support such as a bootie or ankle strapped shoes. See the blue Ivanka Trump pumps I've pulled as an example in the slide below and let me know what you think!
3. Party Pumps
Sing it "Pump, pump, pump it up!" Most women wear pumps to parties. Feel free to be truly glamorous during these special occasions. I'm talking crystals, gems, jewel tones, glitter and the whole shabang. I love a great shoe show but by the end of the night I see women limping out with blisters. Ladies, don't put yourself through misery when there are so many products out there to make our shoes comfortable. Find insoles that support the ball of your foot because that's where most of the pressure is applied throughout the night. Also, for the inevitable swelling, go up half or even a whole size when purchasing high heels and always carry band aids in your purse just in case the shoe starts rubbing on your Achilles heel. Foot Petals is a great company with foot products that remedy the issues we face when wearing heels so check them out. Let me know if you'd recommend any other brands you may have tried.
I hope I've tapped into your inner glamour girl and eased your fear of wearing pumps outside of parties. Just in case you wanted some ideas I've pulled some shoes for you below in the slide show. Click on any pair that you love and take them home. Show me your pumps on Facebook, Instagram, Twitter, or Pinterest by tagging #luxeleblanc #GlamourGirlsMustHaves #PumpItUp. Remember to comment, subscribe and share.
Love,
Luxe LeBlanc
Pump It Up with Pumps
[rev_slider Pump_It_Up]